Carrera Boeing
The Boeing Collection by Carrera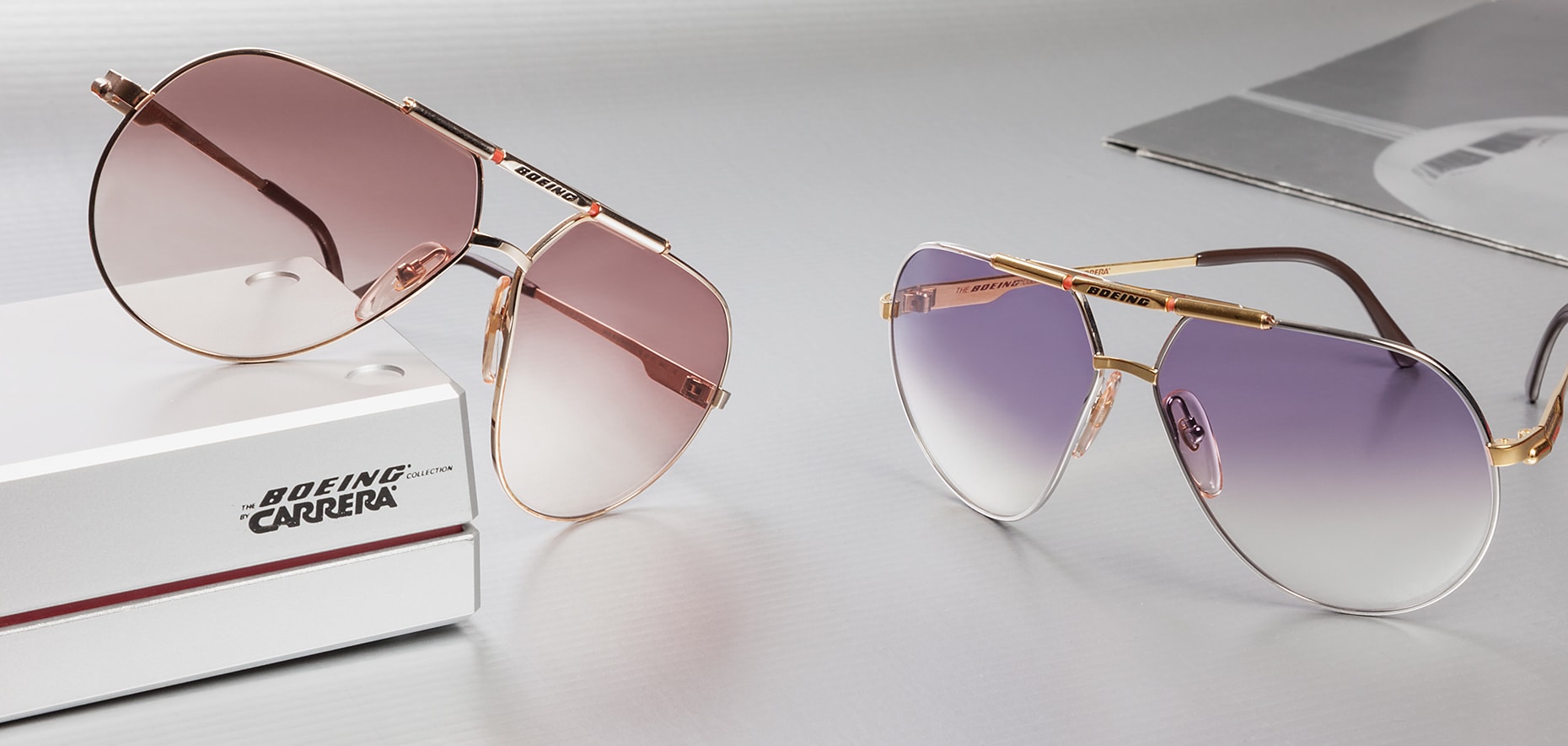 Sunglasses as High-Tech Accessory
In 1989, Boeing reinvented the aviator sunglasses, turning a classic design into a high-tech accessory.
Leveraging the expertise of its aeronautics engineers, Boeing created eyewear of a quality still unparalleled today.
A 'shock absorber' integrated into the hinge area allows perfect flexibility when putting on or taking off the glasses, while self-regulating temple screws ensure optimal alignment and smooth mobility.
Specially designed '3-C' nosepads with a 70° rotating capability and height-adjustable supports guarantee a three-dimensional, perfect anatomical fit.

Quality And Design
All good reasons for Boeing to proudly label their sunglasses 'Advanced Flight Tech Eyewear'.
But Boeing wanted more than just quality alone. Many models in the Boeing Collection have 20-carat solid gold plating and are finished with platinum-group metals such as ruthenium or rhodium.
Moreover, Boeing took the best product designers around at that time to infuse their high-performance models with the right lifestyle image. For example, Jan Matthias (chief designer at Porsche Design from 1975 and 'creator' of the Yoko Ono sunglasses) designed Boeing model 5703.
But this ambitious mix of ultimate sophistication in engineering, functionality and lifestyle had a price. To recoup development costs, Boeing eyewear came with a hefty price tag, well out of the reach for many would-be buyers.
As a result, the Boeing Collection by Carrera was only ever produced in small batch series. This also explains the rarity of vintage Boeing models today – and makes us even more pleased to be able to offer a few pairs of these high-tech aviator glasses.